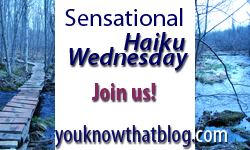 The basics:
It is 3 non-rhyming lines of 5, 7, and 5 syllables respectively (a great way to use your fingers!)
I took "Free Style" to mean that we could use any subject. If I'm wrong, this is going to seem strange.
Photo taken from the 15 worst haircuts for a mug shot.
A little bit here.
A little snip over there.
The perfect haircut.
++++++++++
Tomahawk choppers.
Large white A's on dark blue caps.
Our Atlanta Braves.
++++++++++
Next week's topic: Future