She is in the #2 position so be sure to go pay her a visit.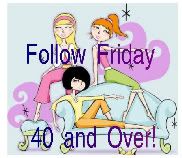 I think I say it every week, but I can't believe it's Friday already.
Where's the time go?
Are you a blogger over 40? Yeah, welcome to the club!
Please join in the fun and get to know your fellow bloggers!!
This is an amazing way to find other bloggers with common interests and also a great way to build your 'followship'.