You Are An Exclamation Point

You are a bundle of... well, something.

You're often a bundle of joy, passion, or drama.



You're loud, brash, and outgoing. If you think it, you say it.

Definitely not the quiet type, you really don't keep a lot to yourself.



You're lively and inspiring. People love to be around your energy.

(But they do secretly worry that you'll spill their secrets without even realizing it.)



Weather in Belize
<!-weather in belmopan, belize on your site - html code - weatherforecastmap.com -->

What you'll find here
Welcome to
Weezers Haven
. Why 'Weezer'? It's what my grandbabies call me and that in itself is another story (ever see 'Steel Magnolias'?)
I am the mother of three daughters and the grandmother to four granddaughters. (Even the dog is a girl.) I am a retired pediatric nurse, a Christian of 'getting stronger' faith, and a reliable prayer warrior. I love to eat bacon cheeseburgers and drink too many diet cokes. Diet A&W is my biggest weakness.
I am not a person of great or many words. Here, you won't find long compositions. I am a visual person and often use my own photos to make a point or illustrate an idea.
I am devoted to my blogger friends. If you visit, please leave a greeting. I love to know who's stopped by.
I can be reached at
MomNSadie@aol.com
.
How wonderful that the world our daughters will inherit allows them to become teachers, doctors, atists, or corporate CEOs; to raise children, and lead armies!
(author unknown)

Christian Women Online

Over 40 Bloggers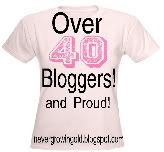 I'm so over 40 that I don't think I remember it. Wait. Maybe I do. Nope. It was almost 20 years ago. If anything comes to me, I'll let you know.

Stay in Touch


When a daughter begins to ask about the past, she is beginning to spread her wings.
A woman needs to understand where she comes from so that she may better choose where she wants to go.
~~~~~ ~~~~~ ~~~~~ <>< ~~~~~ ~~~~~

Parents rejoice in watching their daughter go about her life. Her confident stride tells of a woman comfortable with who she's become, and happy with where she's heading.