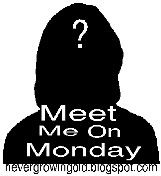 It's time for Java's Meet Me On Monday.
Here's this week's questions:
1. What is your favorite kind of potato chip?
This didn't take much thought. I'm from the "Betcha Can't Eat Just One" generation. It's the classic Lay's for me. I've tried the other flavors, but nothing goes with a good ol' PBJ like the classic.
2. Do you make your bed everyday?
Well, here's the story on that.
A few years back I had a skin condition (
called
basal cell carcinoma
) and while I was being treated for it, I got in the habit of not sleeping under covers. And to this day, I still sleep with just a light blanket over me. So all I have to do when I get up is fold up the blanket. I sleep on top of the comforter.
3. How often do you go to the hair salon?
Do you mean a beauty shop? I've never been in a salon that I know of. I'm not even sure we have them in Georgia. But I go to the beauty shop every three weeks.
4. What do you dip your French fries in?
And that's all I've got to say about that.
5. Do you shop with coupons?
I try to. Sometimes I've got them with me. Sometimes I don't I do try to shop on Senior Citizen day. That's a big help. And we use Sam's Warehouse........splitting things with the daughters.